Meeri Koutaniemi stands motionless in a lake in midwinter, concentrating on breathing and keeping her mind calm. After a few minutes, she climbs out of the freezing water and steps into a hot sauna.
This homemade ritual takes place in Kuusamo, northern Finland, where Koutaniemi grew up and where she longs to go whenever she gets a break from her travels around the world. At the time of writing, she is in her mid-30s.
"The sensation of being in the ice cold water is so intense that I can connect with that feeling no matter where I am," she says.
Global reach
For Koutaniemi, the "where" might be the tribal lands of Kenya's Masai people or a women's prison in El Salvador. Armed with curiosity and a camera, she has a knack for finding projects of no small significance – work that deals with hefty themes such as human rights, equality and defiance in the face of overwhelming odds.
"No matter where I go, I'm inspired by the resilience shown by the people I meet," she says.
Her longest-running project – already ten years in – deals with female genital mutilation on different continents. "I've been to 12 countries documenting the topic and will continue the research," she says. The focus of the project is on local activism.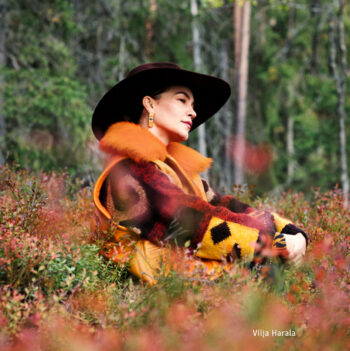 Meeri Koutaniemi
• Finnish photographer and photojournalist
• Focuses on the humanitarian aspect of conflicts, displacement and discrimination
• Celebrates our universal ability of empowerment and resilience
• Has reported on human rights and the situations of minorities
• Has won numerous awards for her work
Activist storyteller
The rights of women and girls light the activist fire in Koutaniemi's eyes. Simply by providing girls with access to education, you can combat vast problems such as overpopulation, economic inequality and climate change. Studies show that better educated women tend to be more informed about things like nutrition and healthcare and have fewer and healthier children; also, they're more likely to participate in the labour market and earn higher incomes.
"We need to support change on the local level," she says. Equality issues rarely improve without a fight.
"For example, women's right to vote didn't just happen," she says. "It took years and years of effort and determination." Koutaniemi is proud of the fact that Finnish women were the first in the world to gain unrestricted rights both to vote and to run for Parliament, back in 1906.
Roots run deep
The globe-trotting Koutaniemi – 60 countries and counting – says that she always carries her homeland with her. "I am empowered by my roots in Kuusamo, where I grew up basically amidst the forest."
To this day, visiting a Finnish forest, with its pines, spruces and birches, gives her all the sanctuary she needs from the pressures and burdens of daily life.
"The forest, for me, is a place where I can get reenergised and where I can catch my breath," she says. "When I am walking in nature, I feel powerful gratitude." She has a strong bond with the northern forests.
"Occasionally you just need some trees to climb," she says with a grin.
She admits that the "green link" was not always as clear in her mind as it is today. But as photography took her to the farthest reaches of the earth, she sensed something stirring inside her: a powerful longing to reconnect with the nature of her home country.
"I had to travel pretty far before I could really grasp what the woods mean to me,"
she says.
Recently, she also purchased five hectares of forest in Kuusamo, with a clear agenda in mind. "Now that I have those woods, I can make sure that nobody can ever chop them down," she says.
Driven by instinct
Koutaniemi has been prone to independent thinking since she was a teenager.
"I felt that I needed to be the one in charge of deciding where I find my calling," says Koutaniemi, who became a freelance photographer at the age of 19.
More than 15 years down the road, she hasn't stopped feeling that way.
"I choose my projects very intuitively," she says, "but I also consider the social and political side of the theme."
At the same time, she doesn't mind taking risks and falling flat on her face.
"Part of the journey is being incomplete and experiencing failure," she says. "Having your foundations shaken is usually a good thing."
Human touch
In the past, she has visited conflict zones, witnessing the full scale of oppression and survival. But how does a photographer relate to subjects who have seen unspeakable things, and not get swept up in emotion? She replies that taking pictures of people is very much about human interaction:
"Mutual respect is always the cornerstone."
Koutaniemi says that her craft is all about the softer side of storytelling: how you can learn something from others and, ultimately, realise something about yourself, too.
"We have our differences, but there are more things that unite us than separate us," she says. "What matters is how we work together."
By Sami Anteroinen, ThisisFINLAND Magazine 2023