The year 2020 marked the 75th anniversary of the Moomin books. Swedish-speaking Finnish artist and author Tove Jansson (1914–2001) wrote and illustrated nine Moomin novels (one is actually a short-story collection), in addition to various picture books and comic strips. She also wrote other novels and short stories and had a prolific career as an illustrator and painter.
The first translated Moomin books appeared in English, and the stories gained a British audience before Finnish-language publishers caught on to how exceptional the Moomins are (Finnish and Swedish are both official languages in Finland). The characters attract readers, young and old, with their adventuresome spirit, wisdom, quirkiness, insight and sometimes irreverent attitudes.
The Moomins and the Great Flood, published in Swedish in 1945, was not the first to be translated. The English-speaking world became acquainted with Moomintroll and the others in 1950 with Finn Family Moomintroll, while Finnish speakers got their first Moomin picture book in 1952 and their first novel in 1955.
We present the books in chronological order of release of the original Swedish-language versions (some of the titles were later revised), and include a quotation from each to make you smile and think.
The Moomins and the Great Flood
(published in 1945 in Swedish in Helsinki, as Småtrollen och den stora översvämningen)
In the introduction, Jansson recounts how her other work was at a standstill in 1939, during the Second World War, and felt "completely pointless." She started the book to distract herself, then forgot about it until 1945.
The Great Flood introduces many of the characters who are now so familiar. Sniff is in the story, but his name is simply "the little creature," and the Moomins look thinner than their later incarnations. It also gives us a taste of the adventures to come – a flood hits Moominvalley again in Moominsummer Madness.
Quotation: "I think this is the most wonderful thing we've been through so far," said Moominmamma. "Why, flying is not nearly as frightening as I thought."
Comet in Moominland
(1946, Kometjakten)
A comet is hurtling through space, coming closer and closer to earth. Moominmamma packs Moomintroll a backpack full of sandwiches and woolly socks, and he leaves with his friend Sniff to seek advice from the professors at the observatory in the far-off Lonely Mountains. Along the way, Snufkin and others join their quest.
The book contains encounters with a dragon, an eagle, an octopus and a poisonous bush that tries to grab passers-by. In one epic scene, the group traverses the empty sea floor on stilts (the comet has made the water recede).
Quotation: "It would be a terrible thing if a comet hit the earth…Everything would explode," said Moomintroll, gloomily. There was a long silence. Then Snufkin said slowly: "It would be awful if the world exploded. It's so beautiful."
Finn Family Moomintroll
(1948, Trollkarlens hatt)
Moomintroll, Sniff and Snufkin find a black top hat on a mountain summit. They soon figure out that it has magical powers. Could it belong to an intimidating magician who flies around the universe on an enormous black panther? Could that magician be looking for the world's biggest ruby, which someone has stolen from him? Objects with magical powers lead to perilous adventures.
Quotation: Outside the storm redoubled its fury. The voice of the waves was now mixed with strange sounds: laughter, running feet and the clanging of great bells far out to sea. Snufkin lay still and listened, dreaming and remembering his trip round the world.
The Memoirs of Moominpappa
(1950, Muminpappans bravader)
One day Moominpappa sits down to write his memoirs, yielding, he says, "to the temptation of talking about myself." Hardcore fans love this book because it fills in so many background details: Moominpappa reveals stories about his wild youth. We find out how he met Moominmamma, and who Sniff's and Snufkin's parents are.
Quotation: The world was very large in those days, and small things were small in a much nicer way than now, and suited me very much better. If you see what I mean. (Moominpappa)
Moominsummer Madness
(1954, Farlig midsommar)
When a flood submerges Moominvalley, the family takes refuge in the top floor of their home, then manages to climb onboard a mysterious floating house. It turns out to be a theatre – but none of them knows what a theatre is.
Gradually they develop a play, and the forest creatures show up in boats to watch them perform on the floating stage – but the audience thinks that the onstage events are real. In a subplot, Snufkin takes steps to outwit the Park Keeper, who puts up signs prohibiting laughing, whistling, hopping, skipping, jumping and anything else that is fun.
Quotation: Suddenly Little My took a desperate leap upon the stage, rushed at the lion and sank her small sharp teeth in its right hind leg. The lion uttered an exclamation and broke in the middle.
Moominland Midwinter
(1957, Trollvinter)
Usually, the Moomins hibernate through the winter, with their stomachs full of nutritious pine needles. This time, Moomintroll wakes up in the middle of winter and can't get back to sleep. He discovers a much darker, colder world, experiences snow for the first time, and makes some new acquaintances. One of them is Too-ticky, a character based on Jansson's life partner, artist Tuulikki Pietilä. Little My is also awake, and turns out to be pretty good at ice skating.
Quotation: I'm thinking about the aurora borealis. You can't tell if it really does exist or if it just looks like existing. All things are so very uncertain, and that's exactly what makes me feel reassured. (Too-ticky)
Tales from Moominvalley
(1962, Det osynliga barnet)
In this book of short stories, we encounter old friends as well as lesser-known characters. The name of the collection in Swedish is the same as that of one of the stories, "The Invisible Child." Others include "The Hemulen who loved Silence" and "The Fillyjonk who believed in Disasters."
In "The Spring Tune," Snufkin changes the life of an anonymous forest creature by giving it a name. There's even "A Tale of Horror," about people telling stories that are lies, and "The Last Dragon in the World," in which Moomintroll accidentally catches a tiny dragon in a jar.
Quotation: When the coast had disappeared a full moon rose, round and yellow over the sea. Never before had Moominpappa seen such a large and lonely moon. And never before had he grasped that the sea could be as absolute and enormous as he saw it now.
Moominpappa at Sea
(1965, Pappan och havet)
Having determined that an island with a lighthouse is calling them, Moominpappa decides that he and his family will sail away and live there. When they finally get there, the lighthouse is empty, and the island and its hardy trees and bushes seem to be alive. Moomintroll finds out that the monstrous Groke, who is so cold that her presence freezes water and land, has followed them, yet he resolves not to tell anyone.
A mysterious fisherman lives in a shack on the point. Storms wash over the island. Moominmamma becomes homesick and paints a garden on the walls, then escapes into it. They only have a limited amount of lamp paraffin. Eventually Jansson weaves the story threads together and approaches a sort of resolution.
Quotation: The air was warm and full of the scent of heather. Everything was completely still. And then out of the night loomed an enormous shadow: the island itself was towering over them, looking at them carefully.
Moominvalley in November
(1970, Sent i november)
One by one, an array of characters converges on Moominvalley and the Moomin family's house, only to realise that the Moomins are nowhere to be found. Everyone moves in anyway, but somehow it's just not the same. As they cook, clean, converse, argue and play music, they try to remember how it was when the Moomins were at home.
The situation forces those assembled at the house to take on new roles, since no one is there to arrange their lives for them. All the while, the days are getting shorter and the weather is getting colder. Eventually, most of the characters depart, without knowing whether the Moomins are ever coming back.
Quotation: Hour after hour, Fillyjonk sat at the kitchen table playing the mouth-organ, tentatively but with great devotion. The notes began to resemble tunes and the tunes became music…She couldn't be got at, nothing could make her feel unsafe now.
Moomins show courage, freedom and love
Courage, Freedom, Love! The Moomins at 75 is the name the National Museum in Helsinki chose for their "magical journey into the values and philosophy of the Moomins," in late 2020 and early 2021. Maybe you couldn't visit because of coronavirus-related restrictions, or maybe you're reading this after the fact. Our slideshow gives you an inkling of the exhibition's scope and its enchanting atmosphere.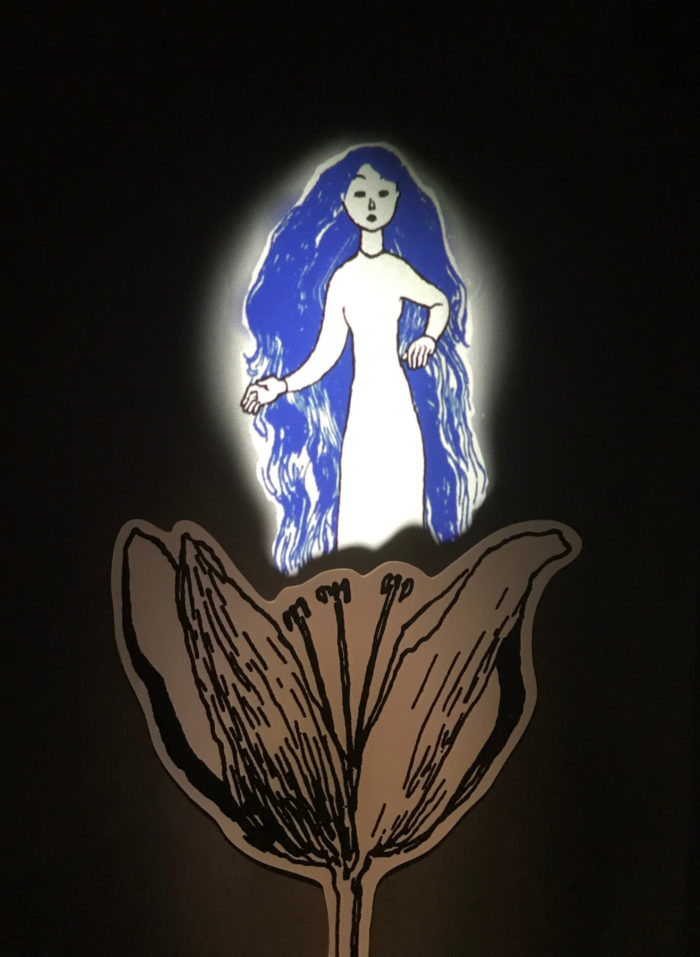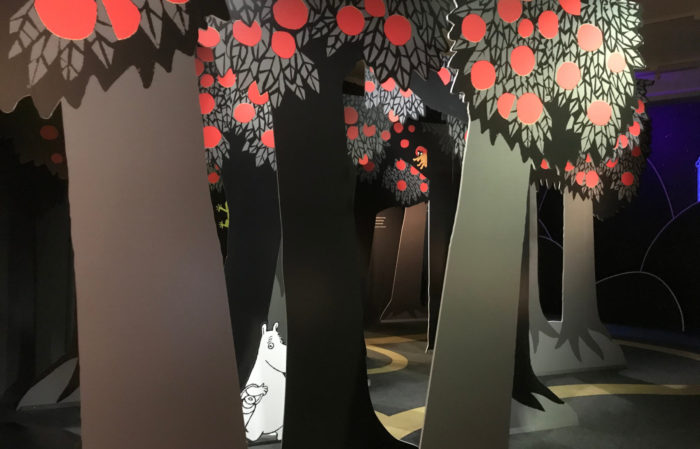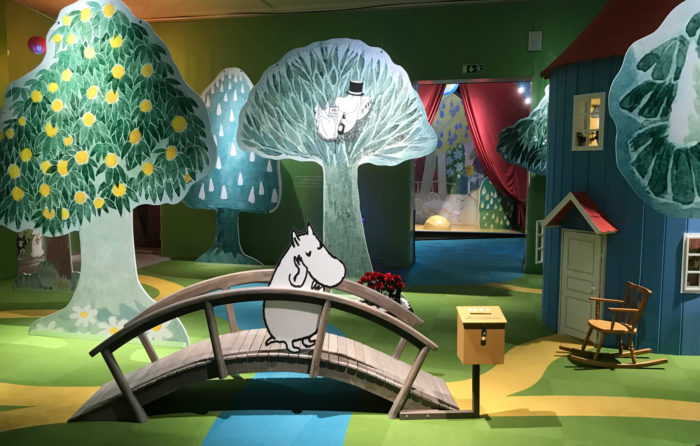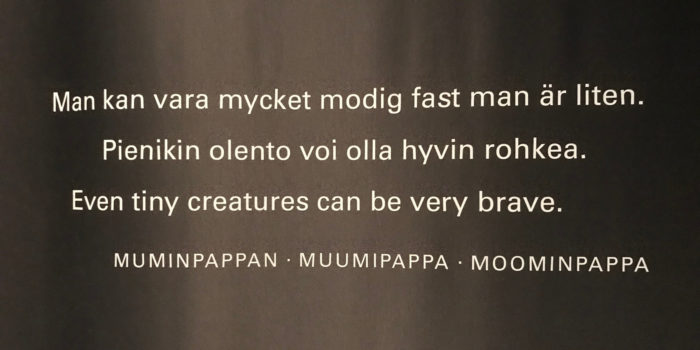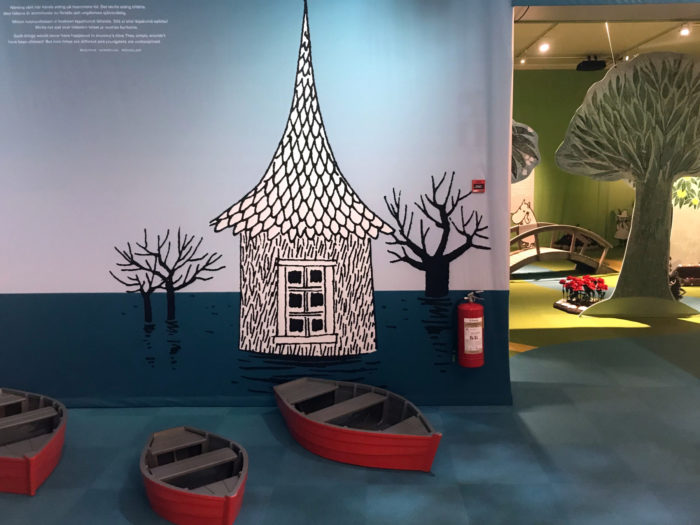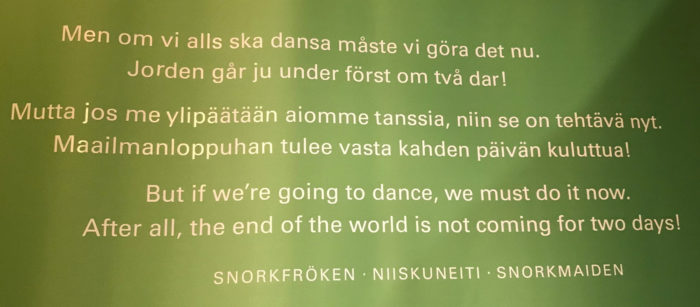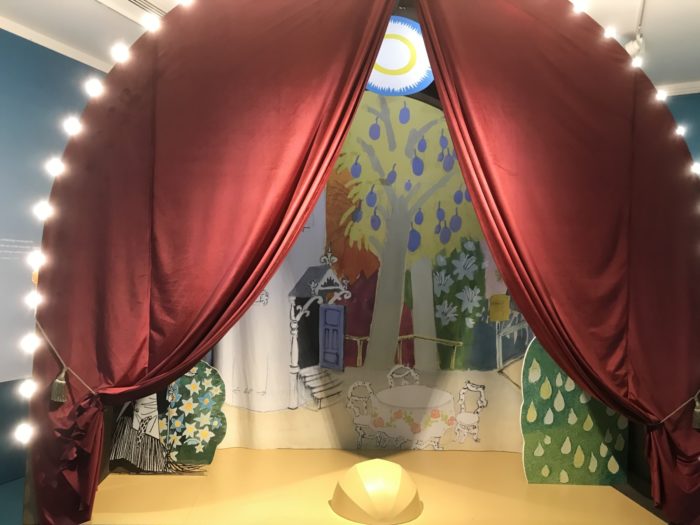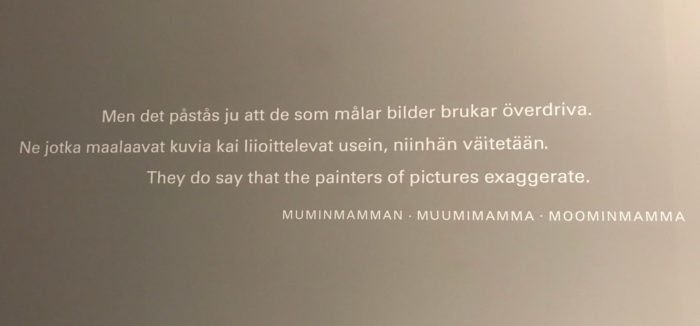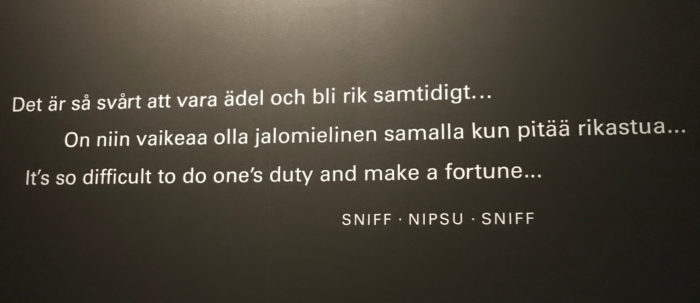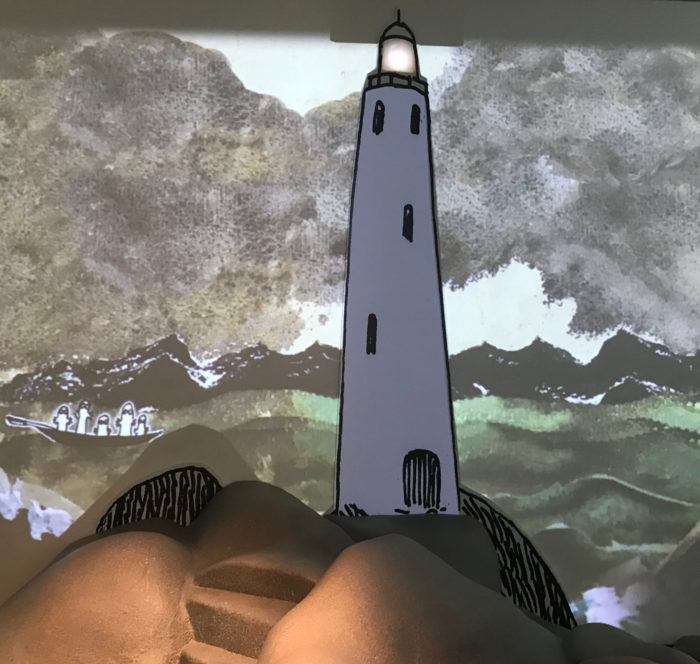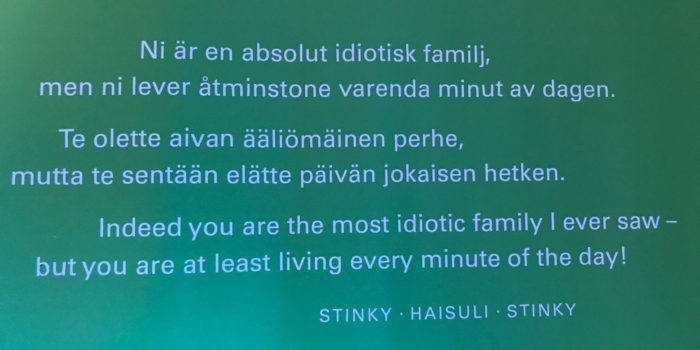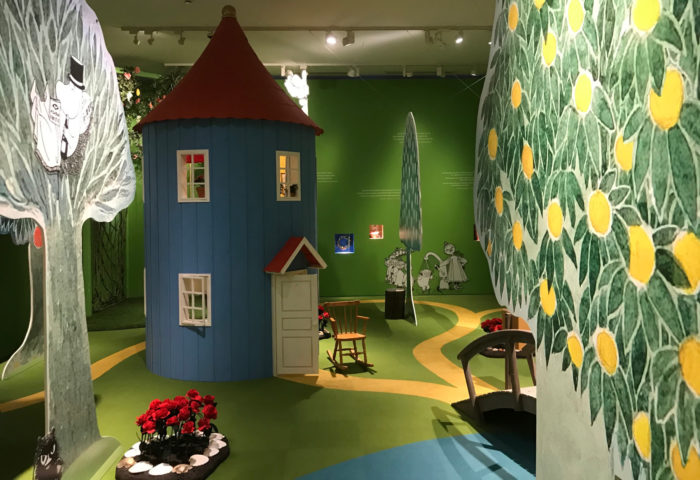 By Peter Marten, January 2021