"When I first went to Finland in 2017, I didn't know much about the country, but I immediately liked the people I met at Lappeenranta-Lahti University of Technology (LUT)," says Jamie Hyneman, who is famous for his work on the TV show MythBusters between 2002 and 2016.
"I like the Finnish work culture. People have sisu, and honesty is a very important value." Sisu is a Finnish word that denotes a unique combination of courage and perseverance.
In 2021, Hyneman became professor of practice at LUT, in the southeastern Finnish town of Lappeenranta. He'd already received an honorary doctorate there in 2017. He started his career in movies, as a special effects expert. Today, he has a product development company, M5 Industries, based in California.
"The engineers in Finland are like me: straightforward characters with plenty of creativity," he says. "They tell me the typical attitude is to keep their heads down, drink a lot of coffee and get the work done. I can relate to that."
English as a working language
Hyneman lives in San Francisco and visits Finland once a year. "Remote lecturing is more environmentally friendly than flying from the US to Finland," he says.
"I have developed tools for remote work; for example, my avatar robot can move around the lecture hall and let me interact with the students face-to-face. Finns are generally ready to adapt to technical innovations, and the students at LUT have an impressive technical vocabulary in English."
In Finland, it is easy to work in English. Jorma Turunen is a professor of practice at the University of Turku in southwestern Finland. He has been a board member in more than 30 Finnish tech companies. Before academia, he was the CEO of Technology Industries of Finland, a central organisation for public relations and collective agreements.
"English is often used as a company language, especially in technology companies that are looking for international talent to work in expert positions," says Turunen.
Meaningful work, convenient life
Finnish work life reflects the equality of the society.
"Managers are generally not authoritarian, and everyone is expected to take responsibility for their own work," says Turunen. "You are valued as a colleague if you are honest and reliable. Mutual trust increases work productivity and quality, and it is easy to find your work meaningful. Finland is known for gender equality, and every person has the same opportunities to advance their career."
Turunen has mentored young researchers who have moved to Finland from abroad.
"Many of them have praised how convenient family life is here. For example, those famous free Finnish schools with amazing learning results."
Innovation accelerates growth
Finland ranked among the top 10 most innovative countries in the Bloomberg Innovation Index 2021, as they have been for many years in a row.
Innovative Finnish startup companies have attracted the interest of international investors. Of the 1.2 billion euros funding they received in 2021, 71 percent came from abroad.
Easy to start a company
One of the brightest young entrepreneurs in the European tech industry, Iranthi Gomes made the Forbes 30 Under 30 Europe list in 2022. She is a cofounder and CEO of Finland-based Serviceform.
Iranthi Gomes from Sri Lanka met her Finnish husband, Jarkko Oksanen, in Australia, where she was studying business and IT. In 2018, they founded the B2B software company Serviceform, basing the new company in Finland.
"It is easy to start a company in Finland and the process is fast," Gomes says. "You can even do some of the paperwork in English. The location is great for us, because we aim to expand our market to other European countries."
Serviceform offers tools that companies can use to convert their website traffic into qualified leads, communicate with customers, run email marketing campaigns and manage them all in one place. Today Serviceform employs 60 people in Finland, Sweden, Spain and Sri Lanka. "Half of our employees are in Finland," says Gomes. "Our six foreign employees were already living in Finland when we recruited them. In my experience, the local business culture is open and friendly towards foreigners."
Startups get plenty of support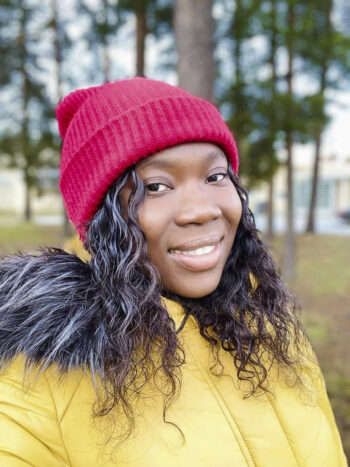 "MunKamu is a startup that provides an online platform for on-demand assistance for elderly people," Anna Fatima Sambou says. "We are based in Oulu, in northern Finland, which is a tech hub. We launched pilots in Oulu and Helsinki, and both cities have been helpful."
Sambou comes from Gambia and has worked in Africa and Asia. She was looking for information about startups and found the University of Oulu's Business Corner (then Business Kitchen) where students can develop business ideas. She moved to Oulu in 2018 and earned a master's degree from Oulu Business School.
"The University of Oulu and Business Oulu helped me to refine my business ideas," she says. "I also learned about Finland's business culture while working as an intern in a health tech company. I am part of the mentoring programme Helsinki Female Tech Founder Frontrunner, which has helped me to build my network and get access to investors."
There is plenty of help for startups in Finland. For example, Business Finland has helpful services and nine different types of funding available especially for startups.
"One group, Startup Refugees, offers support to immigrants who want to start a business," Sambou says. Their aim is to integrate newcomers in Finland to the labour market. "Startup Refugees connected me with mentors and helped me with business strategy, product development and market research. In 2021, they helped me participate in the biggest startup event in Finland, Slush."
By Päivi Brink, ThisisFINLAND Magazine 2023