Flow Festival has built an international reputation on its selection of top musicians, bands and DJs from Finland and abroad, and on its sustainability.
The 2019 edition of the annual August event attracted 83,000 visitors, a far cry from the 4,500 who attended the first Flow in 2004. Audiences in 2019 could see more than 170 performing artists and groups, including Solange, Tame Impala, Erykah Badu, Robyn, Neneh Cherry, Seinabo Sey, Nina Kraviz and Ville Valo.
The organisers take steps to ensure that the three-day festival is carbon-neutral, including emissions compensation and waste recycling. One campaign in 2019 allowed visitors to donate their bottle deposits to a reforestation project, adding 11,700 to the number of trees the project will plant in Madagascar.
Flow is also known for its delicious, sustainable food. Every vender offers vegan options, and approximately 50 percent of meals sold are vegan or vegetarian.
Festivalgoers come from far and wide to experience Flow's music, cuisine and Finnish summer atmosphere. In 2018, the last year for which stats are available at the time of writing, the top five foreign countries represented at Flow were Russia, the UK, Sweden, Estonia and Germany.
Lucy from Canterbury, England
"This is actually my first festival ever. I've always wanted to go to one, and then I saw on Instagram that [unconventional band and performance artists] Fecal Matter were going to be in Helsinki at Flow Festival. I've been following them for quite some time, but had never seen them live before. And it just happened that my holiday from work matched up and I was like, 'I'm off, I could just go.' Helsinki is quite close to Oslo, so it was an easy flight to take.
"There's lots of different types of music and different things, something for everybody. It's been nice to see what people like and how they style themselves. I've been having a lot of fun here. There is a really good feeling and everyone has been super-nice."
Anna from Saint Petersburg, Russia
"In Saint Petersburg everyone knows about Flow Festival. We had already visited Helsinki, and decided to go to Flow for one day, because [American hip-hop performer] Cardi B was supposed to play. But she cancelled her appearance [as she did for several other engagements, too] – that was so irritating."
Ambiance and atmosphere
(Article continues after slideshow.)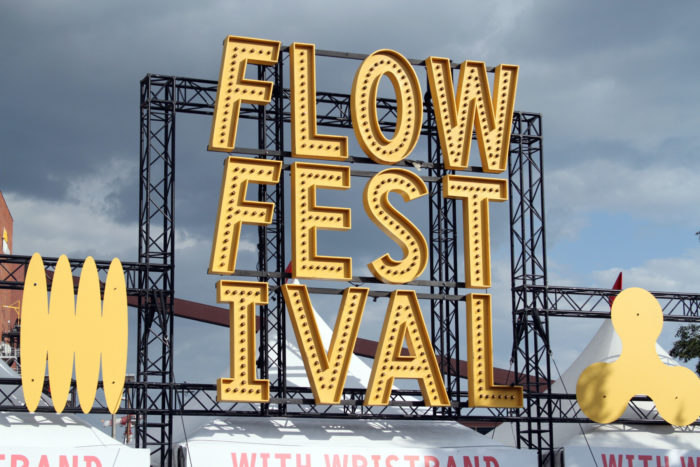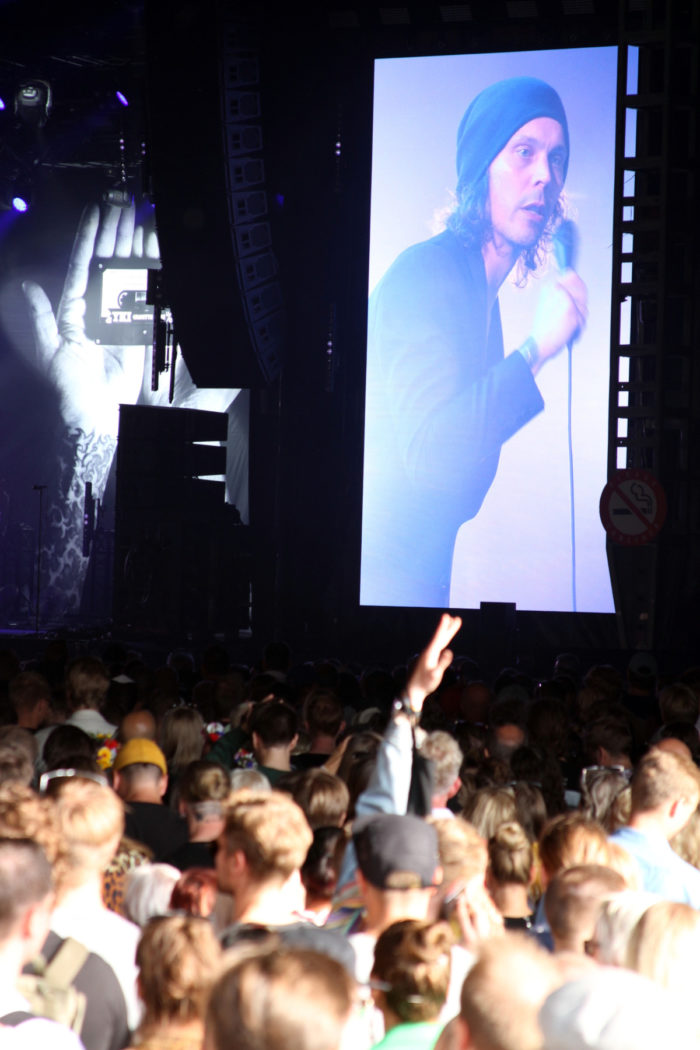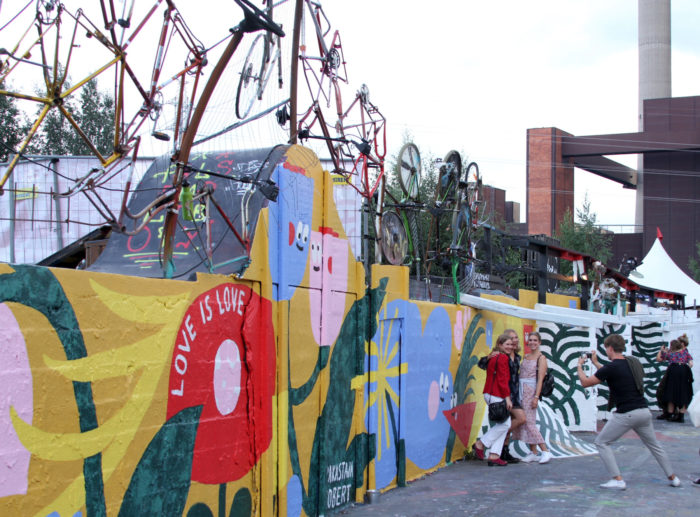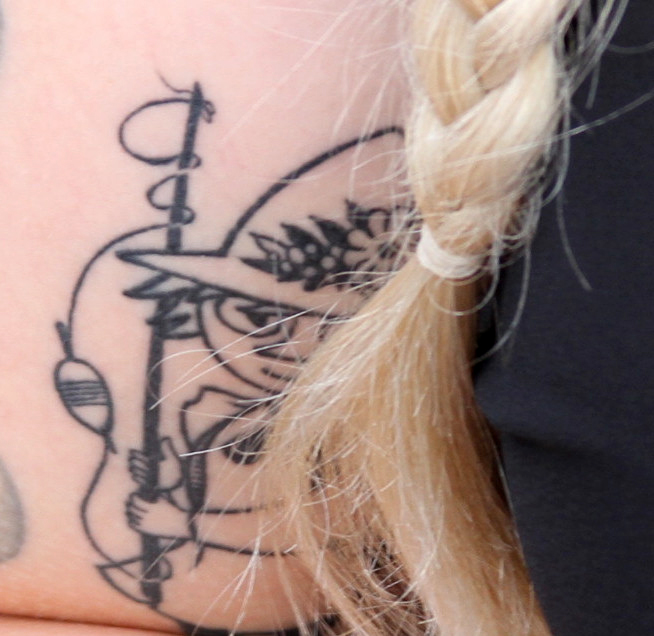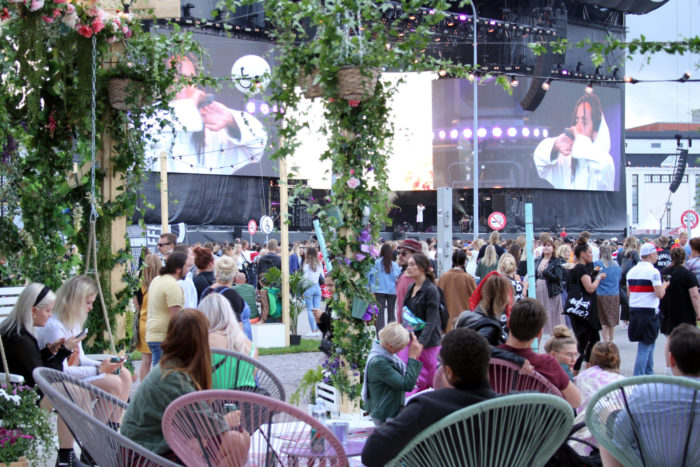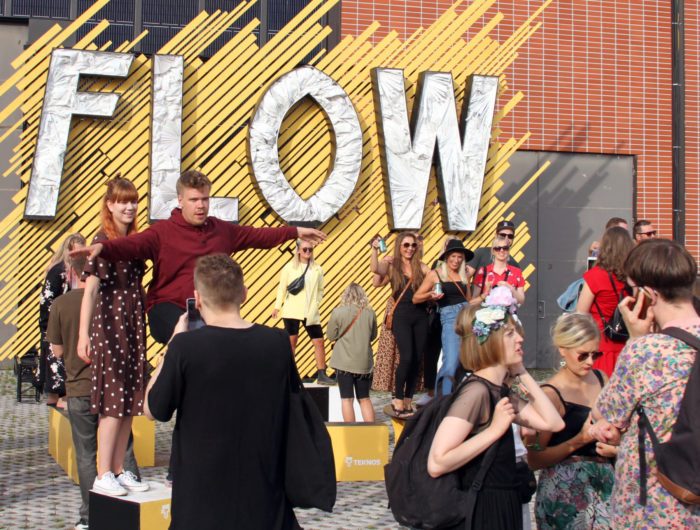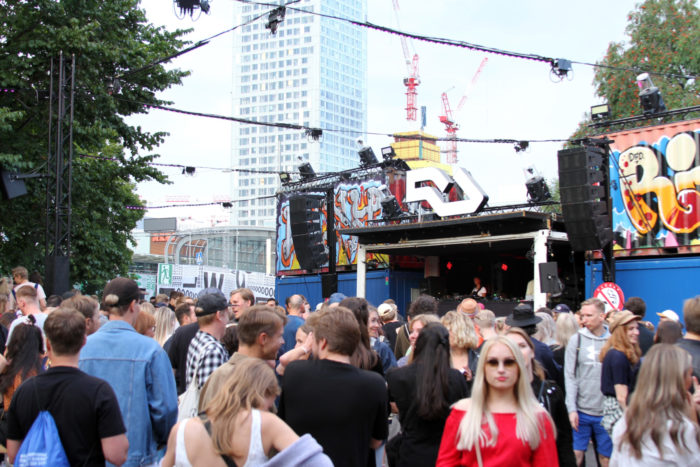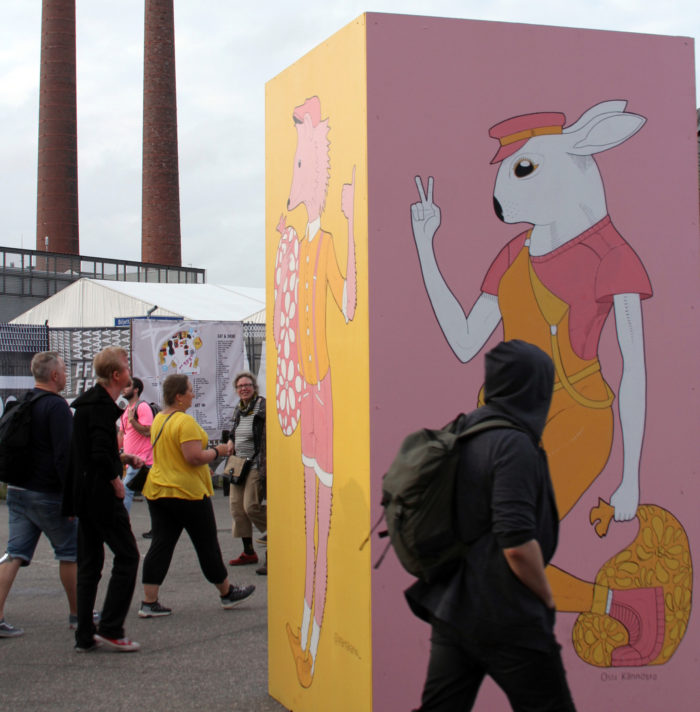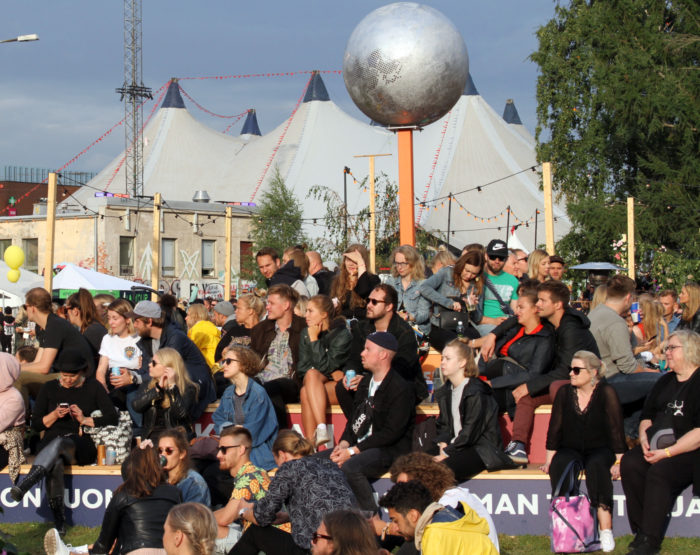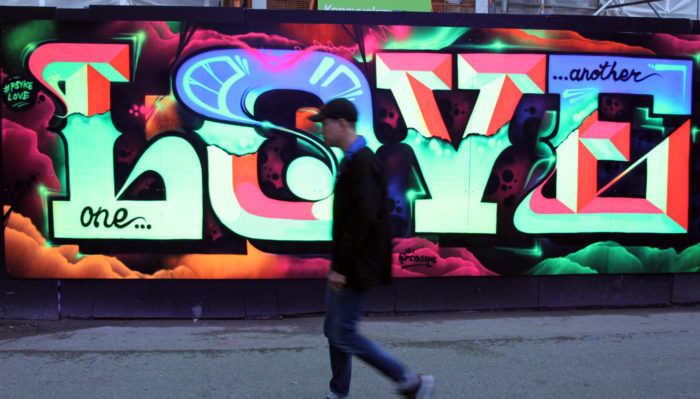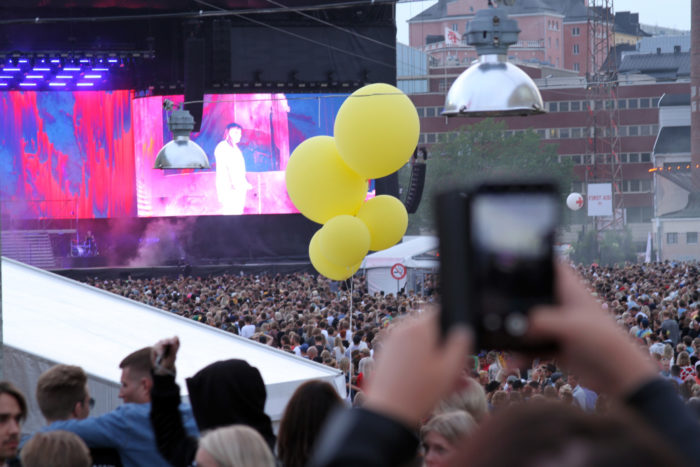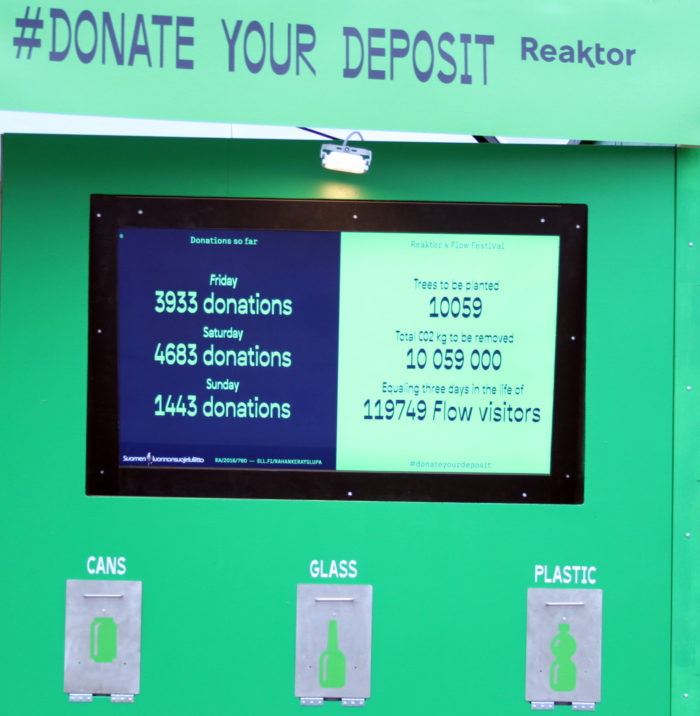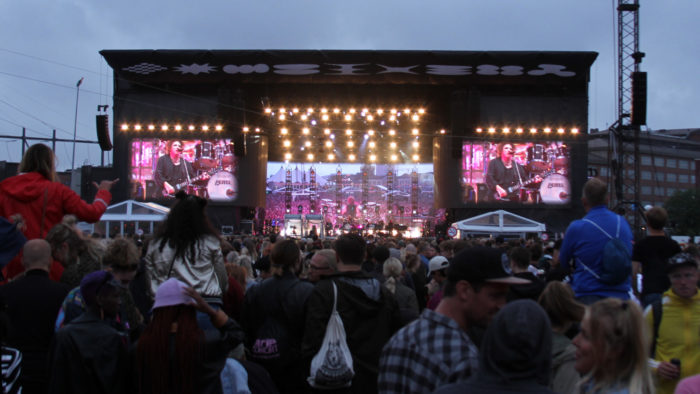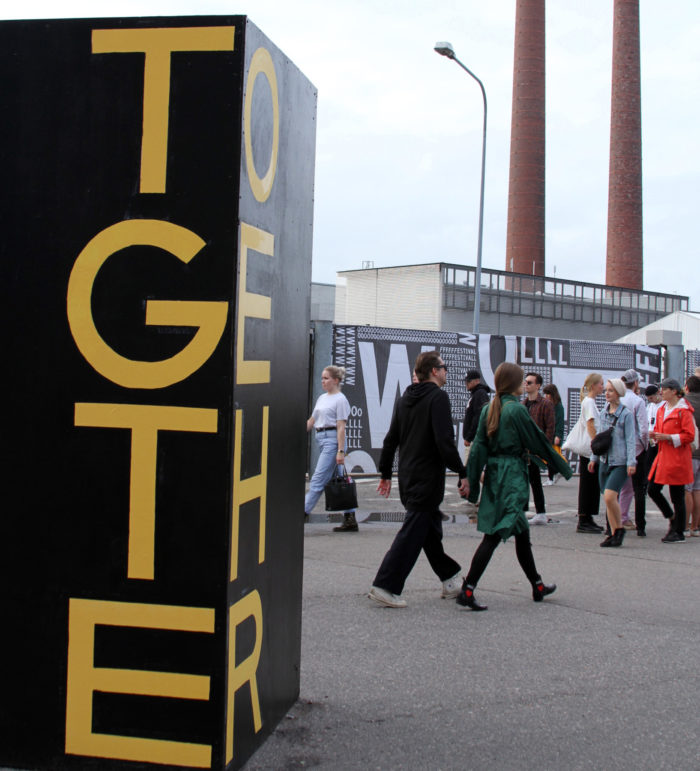 Aleksei from Moscow, Russia and Lyosha from Minsk, Belarus
Aleksei: "I learned about the festival from a friend who lives in Helsinki. I had already been to Helsinki, and decided to come to Flow when I found out that [Swedish singer] Robyn would be performing here.
"The festival is quite large, with a variety of stages. Almost everyone can find something they like. I listen to all kinds of music, from electronic to pop.
"I like the atmosphere. You feel free here. Maybe this is because you're free to circulate between the different parts of the festival grounds."
Lyosha: "The first time I came to Flow, Björk was on the bill. I liked the experience so much that I've come back every year since. Even if I don't know many of the performers in advance, I show up to enjoy the atmosphere, and I always discover something new. There are such beautiful people, there's such freedom – a feeling that nothing bad can happen. I don't know what it comes from, but for me that's rare.
"My friends who have been in Sweden or Denmark say that Finland is like a village. I've been around, but Finland is my favourite country. It makes me think of the Moomins, the characters by [Swedish-speaking Finnish artist and author] Tove Jansson. Everything is somehow very straightforward. Helsinki isn't trying to be something it's not. It's a very personable city."
Emil from Stockholm, Sweden
"My friend had two tickets to the festival, but she broke up with her boyfriend so she invited me instead. I guess I was the backup plan. I'd never heard about Flow Festival before and didn't know much about the performers either. I had actually never even been to Finland before.
"I like festivals; I try to do at least one or two every summer. Flow is different from the festivals I've been to in Sweden. This is the first time I'm at a festival that takes place in a city, where you don't stay at a campsite. I like that.
"It's been really nice to party with the Finnish people. They're more relaxed than Swedes, although they dance less.
"I've heard some great electronic music here, but I have to say my favorite was Robyn. She really owned the audience; everyone was on the same level. There was one moment when she stopped singing and everyone in the audience was singing. It was really magical."
Lera from Saint Petersburg, Russia
"Last year I was in Helsinki right at the same time as Flow Festival, and I happened to pass by the area. I wanted to go in, but the ticket was too expensive for a student like me. I decided that I would definitely go the following year as a volunteer. Some friends had already attended Flow, so when recruitment opened, my friends and I filled out applications right away."
"We're staying at a couchsurfing location not far from here. It's the home of a woman our own age, and she's also hanging out at Flow.
"There are different groups of volunteers. I'm on the cleaning and recycling crew, so we help clean the grounds and make sure the garbage is sorted properly. Out of the three days of the festival, we work two, so two shifts of six hours, total. I think this is a pretty good place to volunteer. You work, but it's not especially hard work. You get a three-day admission pass, and they give you meals and a T-shirt, so it's pretty ideal."
By Anna Ruohonen and Peter Marten, August 2019