Before the Michael Jackson: On the Wall exhibition tour came to the Espoo Museum of Modern Art (EMMA) in late August, 2019 for its final stop (until January 26, 2020), the show appeared at the National Portrait Gallery in London, the Grand Palais in Paris and the Bundeskunsthalle in Bonn.
However, England, France and Germany did not have what Finland has been able to add to the roughly 100 works by 48 leading contemporary artists reflecting the late King of Pop's place in global culture.
Resurrecting Jackson
Michael (2015) is an 18-minute film by Adel Abidin, an Iraqi-born multimedia artist who has spent most of his professional life in Helsinki. While Abidin's short is separate from the larger exhibition, EMMA has chosen to feature the video in its adjacent Areena space, a showroom for experimental and cross-disciplinary art. It brings an additional layer of imaginative context to the mythology of one of the world's most recognisable figures.
Andy Warhol's Jackson pieces may be the star attraction of the exhibition, but Abidin's film ties it together by finding common ground in an exploration of fan culture, celebrity and idolatry.
The film begins with multiple TV networks breathlessly relaying reports that Jackson has returned from the dead. When the news is confirmed, the Christ-like Jackson agrees to an interview with an Anderson Cooper lookalike, specifying that the conversation take place in an empty New York City TV studio. The session is transmitted to the massive screens of Times Square, where tens of thousands of delirious fans await the opportunity to ask the resurrected star questions via a field reporter.
An emotionally challenged Jackson hesitantly and cryptically answers queries on the afterlife and the meaning of life with lyrics from his songs before leaving the set down a stairway, shielding his face from workers and later disappearing into thin air in the greenroom.
Celebrities aren't always celebrated
Abidin received the Finland Award in 2015 in honour of his artistic career; his works form part of public and private collections in Finland and around the world. Arja Miller, EMMA's chief curator, says Abidin's film was a natural extension to the exhibition, whose depictions of Jackson are not necessarily celebratory.
The iconic showman's life and death were famously controversial, involving not only musical megastardom, but also offstage infamy including accusations of child molestation. "For us, it was important that the exhibition not put Jackson on a pedestal, but explore his impact as a cultural symbol," Miller says.
The 2,000-square-metre (21,500-square-foot) exhibition, which received positive reviews on its first three stops, is well suited to EMMA, the largest museum in Finland in terms of gallery space. EMMA condensed the show's original 12 themes into seven: Cultural Meaning, Time Capsule, African-American Identity, Many Sides of Fandom, Behind the Mask, King of Pop, and Body on the Move. In addition to the Abidin film, EMMA added three new pieces, including an ironic gold fibreglass sculpture by noted American contemporary artist Paul McCarthy of a clownish Jackson holding a monkey.
The exhibition isn't biographical or chronological, but rather presents Jackson through a larger cultural lens as an extreme example of talent, fame and obsession. Warhol captures him early, at a somewhat innocent phase shortly after the runaway success of Thriller, while Kehinde Wiley, best known for the Barack Obama portrait hanging in the Smithsonian's National Portrait Gallery in Washington, DC, examines megalomania by displaying Jackson as a horseback monarch being crowned by angels.
Joyful fandom and twisted darkness
The joyful fandom of everyday people badly singing Jackson tunes exists alongside the twisted darkness of unabated, fragmented celebrity.  In Jordan Wolfson's work, we see only Jackson's eyes during a haunting video statement taken during the child-molestation allegations. It provides, similarly to Abidin's film, a grim reminder of the compulsive need to build up and tear down idols.
Through it all, the focus of the exhibition is designed to extend beyond Jackson's most loyal followers and create a bigger discussion about topics ranging from the absolute limits of celebrity to the things that matter in life.
"The themes examined in the exhibition are larger than Michael Jackson," Miller said. "Jackson is, in most works, used as a symbol through which the artists examine a variety of themes, such as identity, gender, race, equality and fan culture. I think that is the point of resonance for larger audiences."
Michael Jackson at EMMA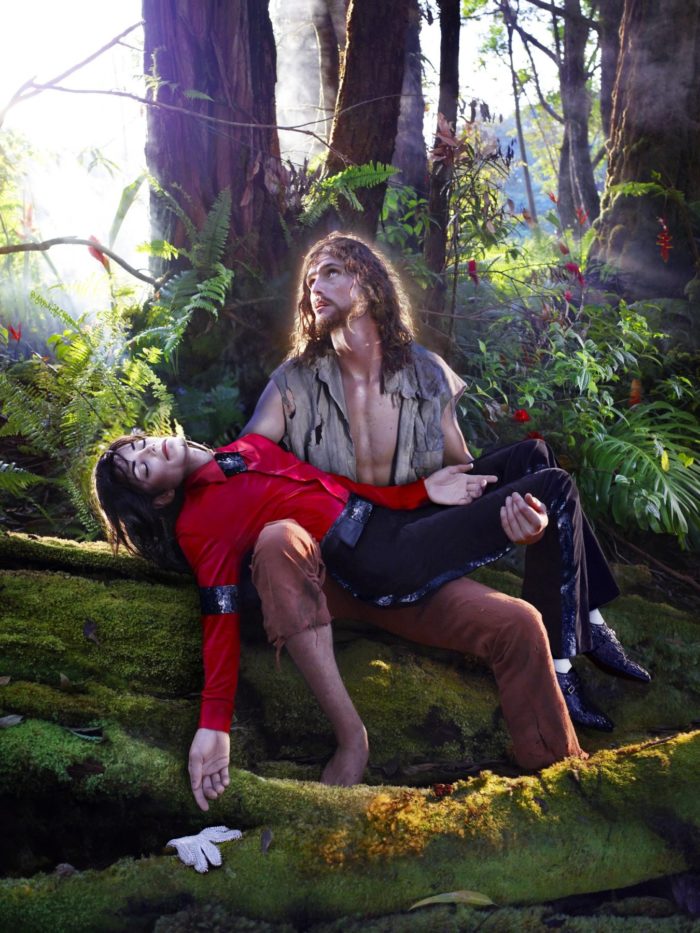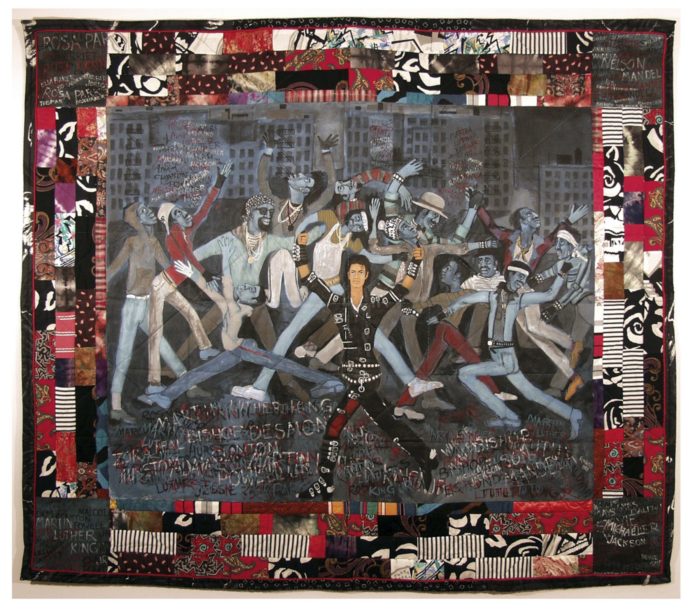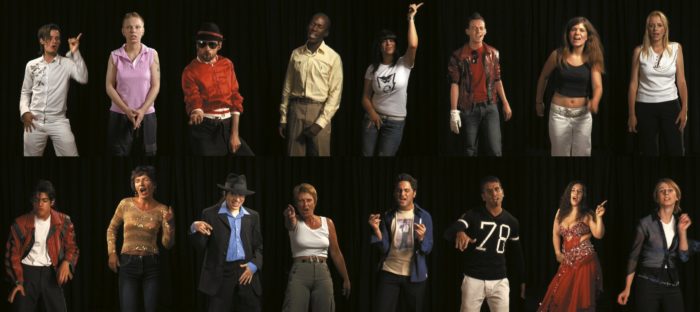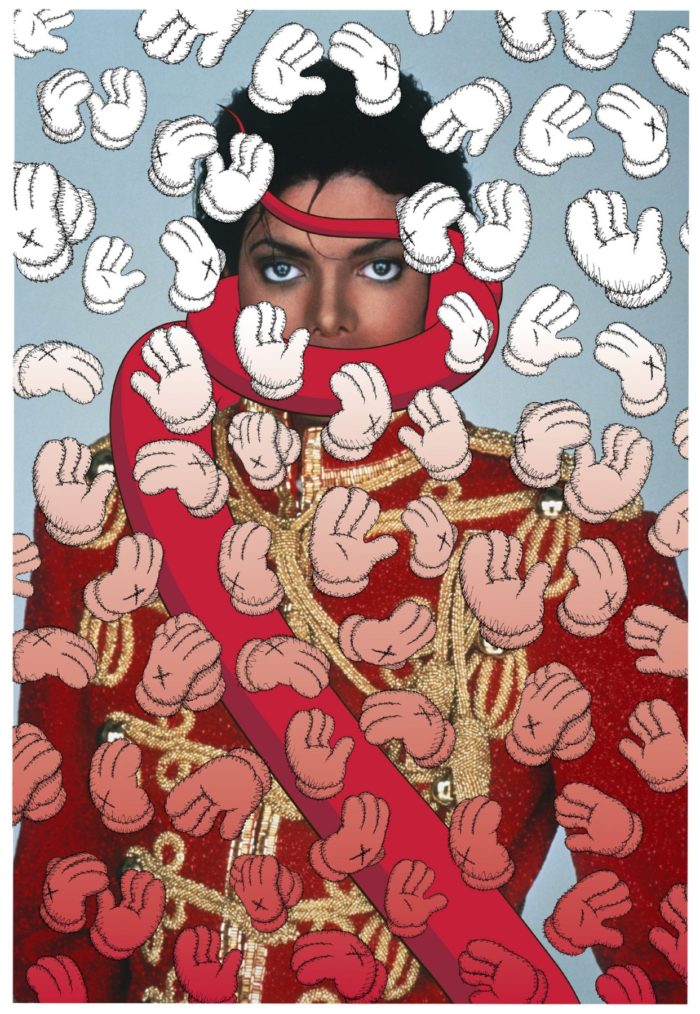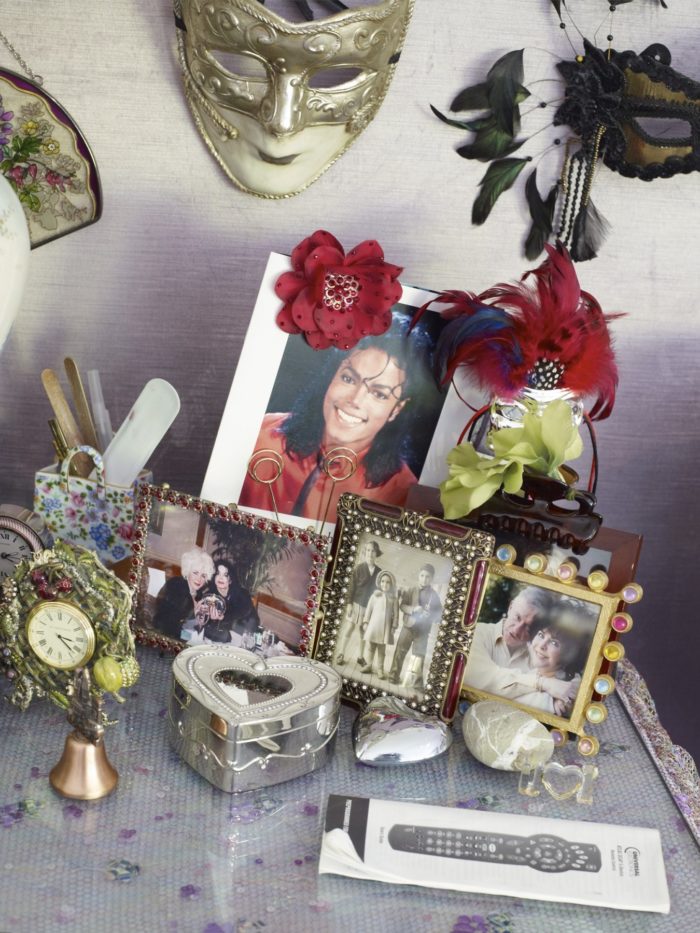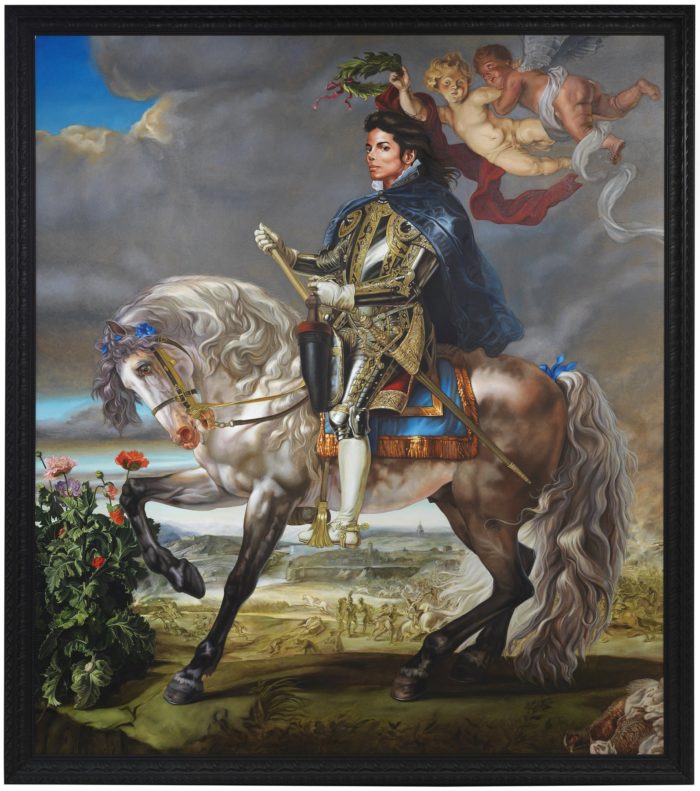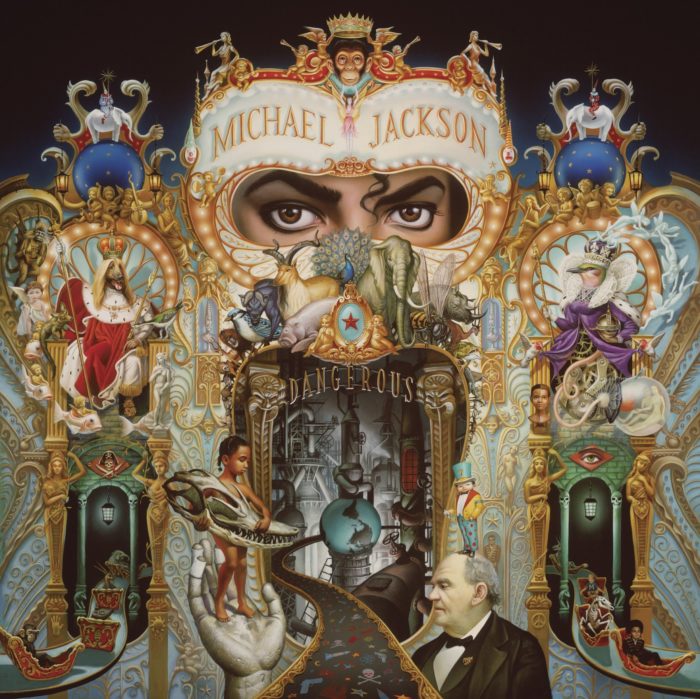 By Michael Hunt, September 2019