Finland is a good country for fishing. There are ample bodies of water; two gulfs, the Baltic Sea, about 100 rivers, and tens of thousands of lakes.
The waters of Finland are still clean, although eutrophication in the Gulf of Finland and the Baltic Sea is becoming a cause for concern. Many types of fishing are practical in Finland, from angling for roach to fly-fishing for salmon. Crowding is no problem, as the country is sparsely populated. As the fish stocks are quite ample, too, it is not surprising that more and more travelling fishermen are heading for Finland.
Fishing rights and fishing permits
Fishing in Finland is regulated through three Fishing Acts and their related decrees. Fishing rights derive from land ownership, with certain exceptions. Fishing waters generally come under the jurisdiction of the local fishing association, which administers fishing rights to jointly owned waters. The legislation on this is about to be amended and may cause certain changes to this situation. In some areas, fishing waters are divided between real estate holdings, or even by the plot. The State, many cities and municipalities, corporations and companies are also major owners of fishing waters as a result of their land holdings. State-owned waters can be found in large lakes and the open sea. The 1996 amendments to the 1994 Fishing Act made it easier and less bureaucratic for foreigners, too, to acquire fishing permits. The autonomous Åland Islands have their own Fishing Act and their own fishing permit procedures. For further information on the Fishing Acts and related matters, contact the Ministry of Agriculture and Forestry.
The fishery fee is a type of tax pay able to the Ministry of Agriculture and Forestry. You are not required to pay this fee if you are under 18 or over 65 years old, if you are accompanying fishermen purely in order to row the boat or otherwise assist without handling the fishing tackle; or if you limit your fishing to angling or ice fishing. In Finland, angling and ice fishing are public rights and no permit is required. However, people between the ages of 18 and 64 who fish with lures or fixed nets must pay the fishery fee. In 2002, the fishery fee for the full year is 15 euros and the fishery fee for a fixed period of 7 days is 5 euros. The receipt for payment of this fee must be carried when fishing and shown on demand to the authorities or other persons responsible for supervising fishing.
There are two options for obtaining a fishing permit. A lure permit for a specific province constitutes permission to fish within the area of that province using one rod, reel and lure. In trolling, you are entitled to also use one heavy trolling lure or trolling sinker. This permit can be purchased for several provinces, specifying which ones, and the fishery fee must be paid. Fishing with a lure permit is subject to certain geographical restrictions. Fishing is prohibited within specific protected areas. In built-up areas, these prohibited zones are signposted on the shores of watercourses, and information on protected zones elsewhere is available from the fisheries units of the Employment and Economic Development Centres. Moreover, a lure permit does not allow the holder to fish on the rapids or groups of rapids of rivers classified as rich in salmon and whitefish or in water areas where fishing is prohibited under other regulations. The latter areas include certain nature reserves. The lure permit for 2002 costs 27 euros for the whole year or 6 euros for a 7-day period of fishing. A lure permit (and the fishery fee) is a personal permit and cannot be made over to a family member. As with the fishery fee receipt, the permit should be carried at all times and produced on demand. People under 18 or over 65 years of age do not require a lure permit.
Permission from the landowner is a local alternative to a lure permit. Landowners are entitled to give permission to fish in their waters at the price they specify and on condition that you follow their instructions. Many municipalities, such as Helsinki, sell permits for their waters, e.g. permits for lure fishing and fixed nets for local residents and lure permits for visitors. The main owner of sport fishing waters in Finland and also the main permit seller and arranger of fishing trips is the Finnish Forest and Park Service's Wild North service.
Many rapids and groups of rapids or stocked lakes have private sport fishing locations established by the local fishing association or landowners; these have their own rules, fees and limits on rods, etc. Information on sports fishing opportunities is available at the Fishing in Finland website.
Fishing trips are one of the fastest-growing tourist sectors of travel in Finland. Tour operators can be found in almost all towns and their harbours, in hotels and holiday villages and also as independent or self-employed fishing guides. Professional fishing guides can also be contacted through the Association for the promotion of fishing tours in Finland.
Fishermen coming to Finland should specify their fishing preferences to their own travel agent or tour operator. These will in turn forward the information to the local organization in Finland. If all goes well, the necessary permits and licences, and either guidelines on fishing or a paid guide with programme suggestions in hand, will be waiting for you when you arrive. If you are planning to stay with a Finnish family, fishing should be easy to organize, especially if the family concerned has a summer cottage by a lake or the sea.
Winter fishing
Fishing through the ice is the most popular form of winter fishing. The Fishing Act reform made ice fishing a public right, removing the need for a permit. The few restrictions that do exist concern certain individual sport fishing areas, rapids, fast-flow areas and protected water areas containing salmon and whitefish, the 50-metre protective zones around fixed nets and ice roads, and areas around private homes.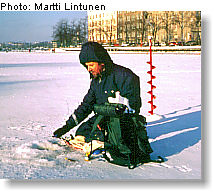 Increasing numbers of travelling fishermen and women will hopefully start taking advantage of the superb opportunities for ice fishing that are on offer in Finland during the winter. Ice fishing for perch, pike perch, pike and burbot is possible all along the Baltic coastline (Gulf of Finland, Archipelago Sea, Turku Archipelago and Gulf of Bothnia). Further inland, there are plenty of ponds, lakes and waterways that are suited to ice fishing. The local catch includes perch, roach, pike, pike perch, burbot, whitefish, trout, and even grayling. The Lapland fells are a world apart. There, not only large-sized perch, grayling, whitefish and trout can be caught, but the elusive arctic charr can sometimes be enticed as well.
The technique for ice angling may seem strange at first. The main difference from summer fishing is that you fish vertically through the ice, rather than casting a lure out on the horizontal. First, a small hole is bored into the ice cover. The water visible through the hole is then cleaned of ice skim. The lure is allowed to drop almost to the bottom by letting out the line. Fish are lured to the bait by gently jerking the rod. In clear water, fish are able to spot a lure from dozens of metres away. There are many types of ice-fishing equipment. The sinker mimics the movements of a minnow, and is suitable mainly for catching predatory fish, while the vertical ice-fishing rod is better suited for luring small fish.
The possible disadvantages of ice fishing include the need to wear suitable clothing, the excessive distances between where you are staying and where you can fish, or even a complete lack of suitable accommodation. Help can be obtained from a fishing guide or the staff of hotels and holiday villages. A substantial selection of winter fishing travel packages are now also available.
Summer fishing
The easiest type of fishing is ordinary angling with worm bait. No permit is needed and it can be done almost anywhere. If you intend to fish with a lure, you will have to pay the fishery fee and either buy a lure permit for a specific province or obtain permission from the landowner if you are between 18 and 64 years old.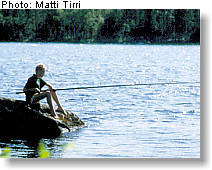 Open-sea fishing offers a number of options: you can obtain access to water through your Finnish host, rent a private cottage, choose accommodation in a hotel or holiday cottage by the sea, join an organized fishing expedition from a sea port or use the services of a fishing guide. Cottages are rented out by Lomarengas and other tour operators. There are separate listings of holiday villages in the Turku archipelago, the Åland Islands and the Archipelago Sea. Boats for fishing expeditions can be hired in Kotka, Loviisa, Porvoo, Helsinki, Hanko, Turku, Naantali, and also places farther north. There are many variations on open sea fishing. You can fish for perch using worm bait or a jig, fish for pike or trout using a plug wobbler or a spoon bait, go fishing for Baltic herring, or go trolling for pike perch. Fly-fishing for pike and trout is another option. Many holiday villages rent trolling boats.
Fresh-water fishing has been an easy option for years. Here, too, you need a lure permit to give you fishing rights. Cottage rentals may also include fishing rights. Fishing associations such as those centred around Lakes Päijänne, Näsijärvi and Saimaa sell joint permits. These areas have found favour among trollers, in particular. The Finnish Forest and Park Service/ Wild North permit is a good alternative in many areas.
Fishing for trout, rainbow trout, grayling, and for ocean trout and salmon in selected streams is already possible in certain sport fishing areas. Certain rapids and groups of rapids have been set aside for this purpose (i.e. Langinkoski, Huopana and Ruunaankosket), as have entire rivers (i.e. the Kiiminkijoki, Kuusinki and Tornionjoki). This is also true of lakes where fish are stocked intensively (i.e. Matildanjärvi, Kirkas-Soljanen, and Evon Niemisjärvet). In southern and central Finland, most waters are either privately-owned or are administered by fishing associations. In eastern and northern Finland, sport fishing areas are primarily the responsibility of the Finnish Forest and Park Service/ Wild North. A separate permit is sold for each area, ranging in price from about 5 euros up to 50 euros per day.
Lapland is a distinctive region, even in summertime. Tens of thousands of fishermen and women undertake a yearly expedition to Lapland, filling their backpacks and disappearing into the woods and fells. Fishing is the primary, but not the only reason for such trekking. The western arm of Finnish Lapland beckons hiking enthusiasts fishing for arctic charr, while Teno Näätämö and the river Tornionjoki attract those fishing for salmon. Lapland has become particularly accessible to fishing enthusiasts in recent years, due to the fact that the Finnish Forest and Park Service/ Wild North has opened up most fell areas for lure fishing, while new fishing tour operators have sprouted up like mushrooms after the rain.
Equipment and instructions on use
A minor, but correctable, problem is where to get information on the type of gear needed, and tips on trekking safety and prime fishing locations. Fishing magazines in different countries contain articles on trolling and fly-fishing, and even on ice fishing. Every year, these generally have articles written expressly with beginners in mind. There are also books available on trolling and fly-fishing. However, no general guide to the range of fishing available in Finland has yet been published in translation.
If you want to buy your equipment in Finland, expertise is available from local fishing shops. These stock everything from rods, reels and line, flies and lures, to jigs and bait, ice drills and waders. This will require an outlay of maximum 10 euros, up to about 340 euros at most, but you might have to spend more if you want to go trolling. However, you should get a lot of good fishing tips into the bargain.
By Sulo Tiainen, May 2002